This blog post is written by Hanna Wolf, Division of Environmental Integration SLU and advisor at Sida's Helpdesk for Environment and Climate Change.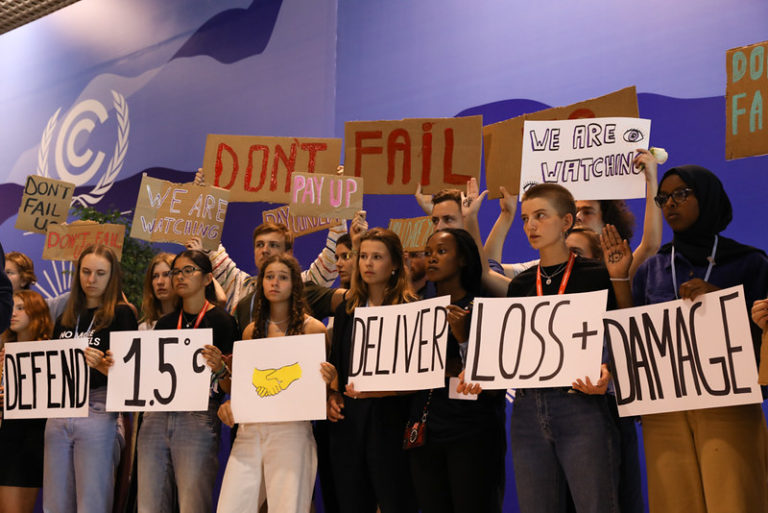 LOSS and DAMAGE. Two words with so much meaning. For some it means the difference between hope and despair and for others it means facing costs and responsibilities. This year's UN Climate Change Conference Of the Parties in Sharm El-Sheikh Egypt, COP 27, was the first COP where Loss and Damage were put on the agenda. For some that was a win in itself, for some it meant trouble.
COP 27 cannot be considered a success, far from it. It was only in the last minute the line on 1.5 degree Celsius target was kept. And a lot in the outcome text presented after two days overtime of negotiations, are missing. For example, much needed climate actions to drastically reduce emissions were not addressed. It is clear that the decision makers in Sharm El-Sheikh have not listened to what science tells us: e.g. that emissions peak before 2025 is necessary, the phase down of coal, and phase out of all fossil fuels is a must to limit global warming well below 2, preferably to 1.5 degrees Celsius, compared to pre-industrial levels. That is the goal of the Paris Agreement, a legally binding international treaty on climate change. It was adopted by 196 Parties at COP 21 in Paris, on 12 December 2015 and entered into force on 4 November 2016.
However, this year's conference closed with a reported breakthrough agreement to provide "loss and damage" funding for vulnerable countries hit hard by climate disasters.
This outcome moves us forward," said Simon Stiell, UN Climate Change Executive Secretary. "We have determined a way forward on a decades-long conversation on funding for loss and damage – deliberating over how we address the impacts on communities whose lives and livelihoods have been ruined by the very worst impacts of climate change."
UNFCCC (United Nations Framework Convention on Climate Change) reports that the decision means that Governments agreed to establish new funding arrangements, as well as a dedicated fund, to assist developing countries in responding to loss and damage. Governments also agreed to establish a 'transitional committee' to make recommendations on how to operationalise both the new funding arrangements and the fund at COP28 next year.
But, the outcome is hardly a victory to celebrate for the most vulnerable countries. Just imagine Pakistan, still struggling with the devastating floods earlier this year, as an example of the need for a loss and damage fund, with over 1700 lives lost and destruction of critical infrastructure, loss of schools for millions of children, hospitals and health centres destroyed and livelihoods, farms and homes gone. I can't help wonder, can that ever be compensated for? The progress on loss and damage is indeed historic and has the potential to support and increase the support for the most vulnerable. But lots of work has to be done before that is a reality.
For me in my role as an advisor, working with environment, climate and development, I have followed the meeting with great intensity. Although not physically present, I have been able to follow both side events and official meetings. Reports, comments, tweets, live streams and various notifications have strangely, despite the seriousness and the gloomy tones, given me energy to continue work for climate justice and climate action. From this year's COP, I especially take with me, an increased dedication of keep referring to science in all my advisory services and that all my recommendations should be Paris aligned.
Decisions taken at the Sharm El-Sheikh climate change conference can be accessed here:  Sharm el-Sheikh Climate Change Conference – November 2022 | UNFCCC
More information on the Paris Agreement can be accessed on UNFCCC webpage: The Paris Agreement | UNFCCC
---
The Division of Environmental Integration at SLU was established in 2018 and works for an increased environmental integration in various sectors in society. The division manages Sida's Helpdesk for Environment and Climate Change in cooperation with the Swedish International Development Cooperation Agency (Sida).