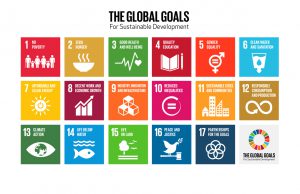 This blog is about global development contributing to Agenda 2030 and the Sustainable Development Goals (SDGs). SLU with its mission, to develop knowledge and capacity for sustainable management and use of natural resources has an important role to play in the implementation of Agenda 2030.
SLU's global collaboration is broad and diverse and focuses on knowledge and capacity that contribute to achieving the SDGs. Capacity development efforts play a specific role in low-income countries, where the advancement of local universities of high quality has a fundamental impact on increasing the relevance and sustainability of the development agenda in the society at large. Researchers and staff at the departments and units at our university are actively engaged in these collaborations, from broad institutional partnerships to research collaborations at the individual level.
SLU's research covers food security, production systems and natural resources on land and in water as well as rural development and biobased materials that can replace fossil fuels and materials. We conduct research on climate change mitigation and adaptation, the interaction between urban and rural environments, ecosystems and biodiversity, animals in the service of humans, zonooses and antibiotic resistance; and sustainable urban development. We are proud of the fact that more than 20% of the publications at SLU are joint works with partners in low- and middle income countries.
Society needs people who can face the challenges of today and of the future. At SLU we give our students possibilities to make a substantial difference. The students are trained to understand future global challenges and to contribute to finding answers and solutions. By training students in these matters, SLU contributes to solving the biggest problems of our time.
In this blog you will find posts from students, researchers, teachers and staff at SLU, as well as the occasional guest blogger, all somehow engaged in global development. We hope that you will enjoy the reading and also that you would like to contribute to the blog by writing a post or two!
Greetings from SLU Global!
Welcome to contact us if you want to make a blog post! Send an email to global@slu.se
The blog is administered by SLU Global.
SLU Global is a unit at the Vice-Chancellor's Office and we support and facilitate SLU's commitment to improve the situation for people in low-income countries based on the Sustainable Development Goals of the Agenda 2030.