This blog post was written by Anna Norman Haldén, research coordinator at the Department of Biomedical Science and Veterinary Public Health, SLU, and Dirk-Jan de Koning, professor at the Department of Animal Breeding and Genetics, SLU. Both have contributed as doctoral supervisors and as SLU coordinator and SLU principal investigator, respectively, within the UDSM-SLU aquaculture collaboration.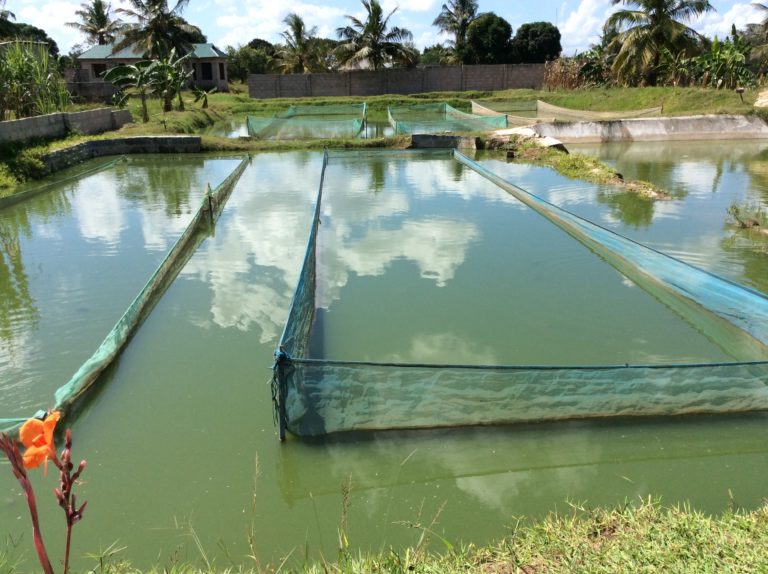 Year 2022 has been declared by the United Nations General Assembly as the International Year of Artisanal Fisheries and Aquaculture (IYAFA 2022). SLU aquaculture researchers collaborate with researchers in countries across the world, including in low- and middle-income countries. One of these countries is Tanzania. Since 2015, SLU and University of Dar Es Saalam (UDSM) have jointly focused on strengthening sustainable small-scale fish farming in Tanzania.
"Small in scale, big in value" is a motto used during IYAFA 2022 to highlight the importance of small-scale artisanal fisheries and aquaculture. Aquatic food (fish, molluscs, crustaceans and aquatic plants) plays a fundamental role for human well-being and livelihoods around the world. A large portion of this food is produced by small-scale artisanal fishers and small-scale fish farmers.
Fish farming in Tanzania has increased during the past decade but is still considered low in comparison with the country's potential. The main fish species farmed in Tanzania is tilapia and dominated by small-scale production is in earthen ponds. Since 2015, SLU aquaculture researchers have been part of the Sida-funded Marine Science Program, within the research cooperation between Sweden/SIDA and Tanzania/UDSM, to strengthen capacity building within aquaculture in Tanzania. At the start of the UDSM-SLU collaboration, two focus areas were identified as being crucial for a sustainable development of tilapia production in Tanzania: feed and breeding.
A major challenge for fish farming in Tanzania, and all over the world, is to find a sustainable high-quality feed at a reasonable cost. Within the UDSM-SLU collaboration, the nutritional value of local ingredients available to small-scale farmers in Tanzania was evaluated as potential components of feed to Nile tilapia (Oreochromis niloticus). The results showed that good-quality tilapia feed can be produced by replacing up to 50 % of the commonly used fishmeal with locally available feed ingredients. In addition to being a more sustainable feed choice, the use of these alternative ingredients can also reduce the cost of feed for the farmer by up to 30 % compared with a conventional fishmeal-based diet.
Tanzania has identified a great need for faster-growing and better performing strains of tilapia, which can be farmed successfully in great varieties of production environments, e.g. in both fresh and saline waters. The UDSM-SLU collaboration has strengthened the genetic competence among researchers in Tanzania and the results from the breeding research conducted can be used as a guideline for establishing a future tilapia breeding program in Tanzania.
The collaboration between SLU and UDSM has, until now, resulted in two SLU-registered sandwich PhD students that have graduated and one more that will defend her thesis during 2022. In addition, two local PhD students co-supervised by SLU researchers have graduated within the program, as well as one PhD student jointly supervised by Stockholm University and SLU. Linked to the UDSM-SLU collaboration, workshops arranged within the Sida-funded AgriFoSe2030 program have contributed to valuable knowledge-sharing and networking between researchers and farmers in Vietnam, Cambodia, Malaysia and Tanzania.
We have done all the ground work to start a systematic breeding program for tilapia that is well suited to the production circumstances in Tanzania. In order to actually establish such a breeding program we need to have long-term uninterrupted funding (decades not years). We also need additional investments in infrastructure to deal with the logistics and biosecurity that is required to deliver healthy and improved fingerlings to the small-scale farmers.
Next phase of the Sweden/SIDA and Tanzania/UDSM cooperation starts July 2022. This means a possible continuation of the UDSM-SIDA aquaculture collaboration, and thus a progression both within the area of developing sustainable fish feed and the establishment of a breeding program for tilapia in Tanzania.
Read two of the doctoral theses produced within the UDSM-SLU collaboration:
Read more about SLU Aquaculture global activities: https://www.slu.se/en/Collaborative-Centres-and-Projects/slu-aquaculture/global-aquaculture-activities-at-slu/
Read more about IYAFA 2022: https://www.fao.org/artisanal-fisheries-aquaculture-2022/home/en/