This blog post is written by Professor Emily Wade, Landscape architect Nupur Prothi and Associate Professor Maria Kylin, Department of Landscape Architecture, Planning and Management in Alnarp.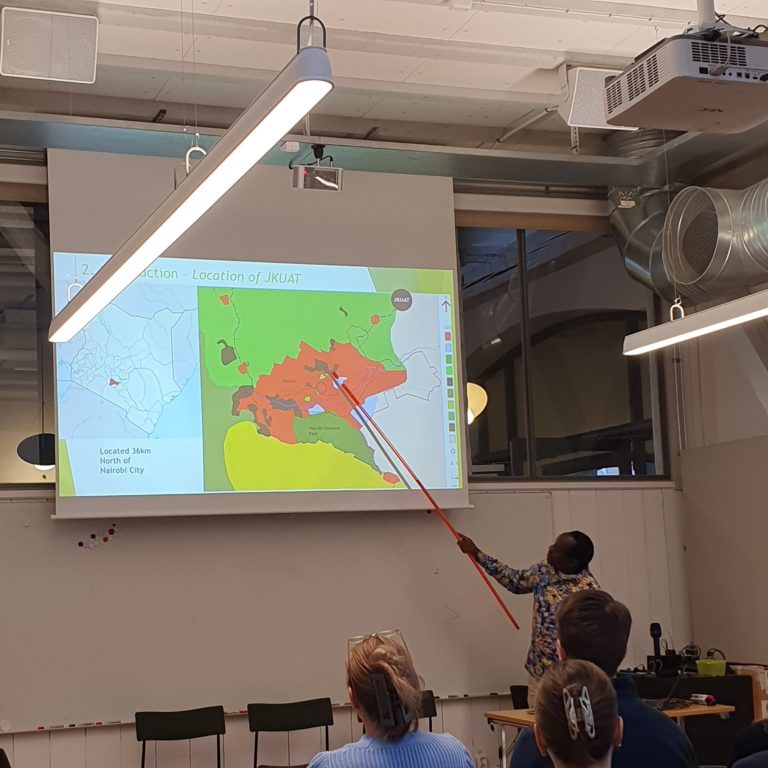 Kenyan teachers visiting Alnarp. Photo: Emily Wade
An ongoing, unique collaboration between Swedish University of Agricultural Sciences (SLU) Alnarp and Jomo Kenyatta University of Agriculture and Technology (JKUAT) Nairobi started out as an exploration of student's innovative ideas related to spatial design/solutions addressing global challenges with local site specific actions.
A collaborative model between the departments of Landscape architecture in Alnarp and Nairobi was created with an aim to contribute to the Student competition set up in affiliation with the World Congress of International Federation of Landscape Architects (IFLA) to be held simultaneously in Stockholm and Nairobi in September 2023. The Swedish part of the course is now well on its way into the final stretch. In this Blog mini-series we want to share some of the insights and highlights of this unique collaboration, as faculty and students of SLU.
How do we understand the scales of "Global" and "Local"?
Our action within our local communities and context eventually impacts resilience at a global scale. For example, the resources we use, and our daily lifestyle ultimately have global consequences. These lifestyles are conditioned by, as well as impacted by landscape design and solutions, which in different ways can enable or constrain ways of living. At the same time, global and transnational political agendas such as Agenda 2030 or the UN Convention of Children's Rights (CCR) affect the local practice of landscape planning and design. How we empower the young generation, will most likely effect their decisions in the future. The inter-dependencies between the local and global becomes tangible when we collaborate on a sites shrouded in similar challenges. To create a resilient and sustainable future for all life on earth, planning and design of landscapes requires to embed local site-specific knowledge within a larger understanding of their global effects.
How do we concretize this in a course?
To demonstrate this through the course we constructed a possibility for the students to work with and compare two sites, one in Kenya and one in Sweden. Both sites face challenges related to water management but in distinct social, political, and climatological contexts. How do we interact with local context, understand spatial processes and handle local politics? These are a few of the challenges that are addressed in this course preparing the students for working cross-equatorially in their future career.
The sites chosen are Nyhamnen in Malmö and Nairobi dam. Nyhamnen is a former harbour area claimed from the sea with vast areas of hardscape and quays. This has been a place of departure and arrival, still harbouring structures for connecting the land and the ocean. The city of Malmö is now planning to extend the city on to the site, embracing the diversity of Malmö and making space for social and biological processes that will colonize the area.  Nairobi dam, is an artificially constructed reservoir to capture water for the urban elite also offering this strata, recreational opportunities of sailing etc. A few decades later, the expansion of an urban marginalized settlement on one of its banks has transformed Kibera into the second largest slum in Africa. Devoid of water this space today is used for urban agriculture with peripheral areas collecting solid waste and sewage form the informal settlements as well as from other parts of the city conveyed by a network of three rivers.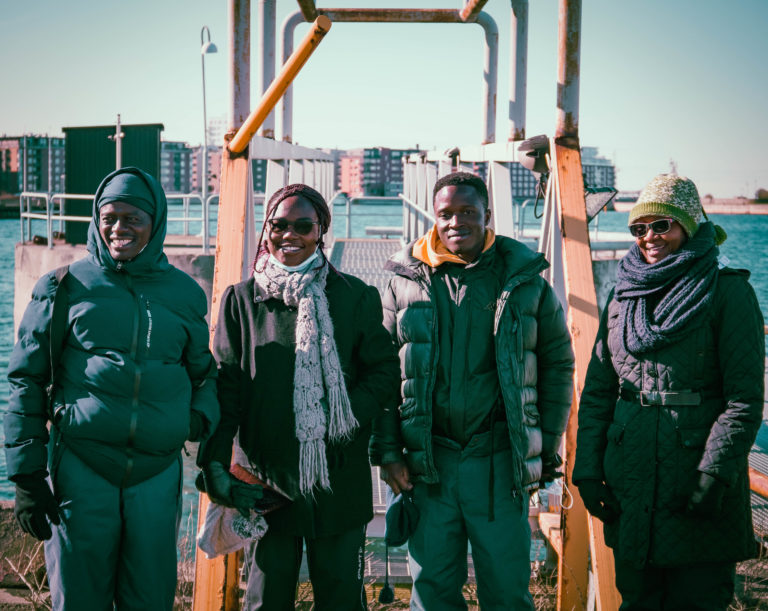 Kenyan colleagues Caleb Toroitich, Hilda Omuhindi, Victor Odiwa and Caroline Ofafa during their visit to Nyhamnen. Photo: Alexia Moulin
How do we solve the logistics and cooperation in the courses?
Due to the different university terms, the JKUAT course started in January ending in April, where the students began with the Swedish site of Nyhamnen. The SLU course began in March and ends in June. During the courses, zoom lectures and reviews between the two universities has been held frequently. These digital meetings was complemented with IRL tutoring when two teachers from Sweden, Emily Wade and Nupur Prothi visited Kenya in March. They were able to meet the students at JKUAT and discuss their inspiring work on the Swedish site. This was also an opportunity to connect with JKUAT faculty and visit the site and meet Landscape Architects who were working within Kibera.
The Swedish part of the Master's course started in the middle of March with a week's visit from two Kenyan faculty members Caleb Toroitich and Caroline Ofafa, and two students Hilda Omuhindi and Victors Odiwa. In an extremely intense week we got to know the Kenyan site through lectures and movies from the site delivered by our Kenyan colleagues. We were able to take them to visit the Nyhamnen site in Malmö. Our Swedish students got to discuss and give feedback to the visiting Kenyan students on their proposals for Nyhamnen. Most importantly, the conversations and discussions strengthened mutual respect, laying the foundation for future collaborations.
What are the insights so far?
One of the important insights is that the education system in both countries have many similarities with a similar manner of teaching, design and practice of the landscape architecture profession. Early in our digital interactions, where we as SLU tutors reviewed the JKUAT students' work in progress, we discovered that their analysis, sketches and proposals follow similar methodology and focus as our students. Our educational systems are also structured similarly at bachelor's level even though the Kenyan education is younger than the Swedish program, which recently celebrated 50 years.
We do talk about the same global challenges, but site specific tangible problems are mostly very different. Multiplicity of cultures, dense urban populations, economic divides and a vibrant equatorial culture contrast somewhat with a Nordic population in a temperate and arctic landscape with low population pressure, abundance of open public space and ample natural resources.
This blog post is the first one in a series of four blog posts from the Master's course Act Local, Think Global given by SLU and JKUAT Nairobi.