This blog post is written by Carolina Åkerlund, a MSc student from the Department of Aquatic Resources at SLU, during a field trip to Mozambique October to December 2022.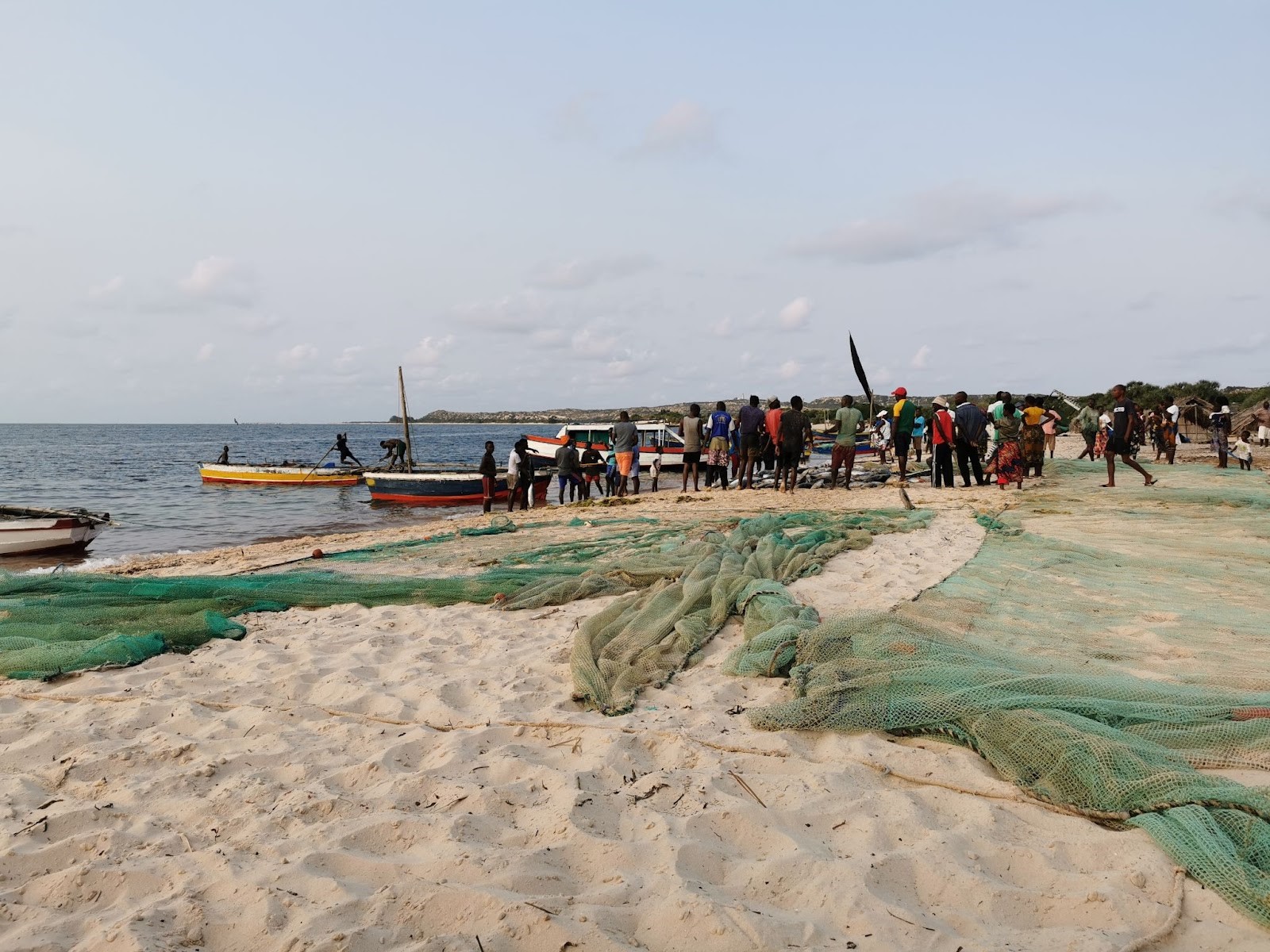 Fishers gathered at a landing site on Sitone beach on Bazaruto Island after a day of fishing. Photo: Charlotte Berkström
In October last year, I travelled to Mozambique with another Master's student, Amanda Rydhem, to conduct fieldwork in the beautiful Bazaruto Archipelago as part of our Master's work. We got the chance to experience stunning environments and meet wonderful people in a setting very different from Sweden. We also got the opportunity to collaborate and work with local scientists, students and NGOs, participating in capacity building of marine science in the region. Our thesis work focuses on exploring small-scale fisheries within the national park of the Bazaruto Archipelago. 
Why work with small-scale fisheries?
Small-scale fisheries contribute to the livelihoods of millions of people in developing countries, being a key contribution to food security and income. In the Bazaruto Archipelago National Park, many people are highly dependent on small-scale fisheries for their subsistence. The area's high marine biodiversity and occurrence of charismatic fauna, including sea turtles, several species of sharks, dolphins and East Africa's only viable population of dugongs, led to the creation of the Bazaruto Archipelago national park in the 1970s. A common feature of the shallow seascape in Bazaruto is the seagrass that forms lush meadows which are important habitats for fish and crustaceans etc. Due to the park's protection of certain areas, including coral reefs, most of the small-scale fisheries are practised in and around seagrass habitats. They serve as key fishing grounds, and many of them have local names. Lack of fertile soil on the islands limits agriculture, and this together with a steadily increasing population and few alternative livelihood options increases the pressure on the seagrass fish community. Decreasing catches within the park have raised concerns regarding sustainability and the future of the seagrass fisheries.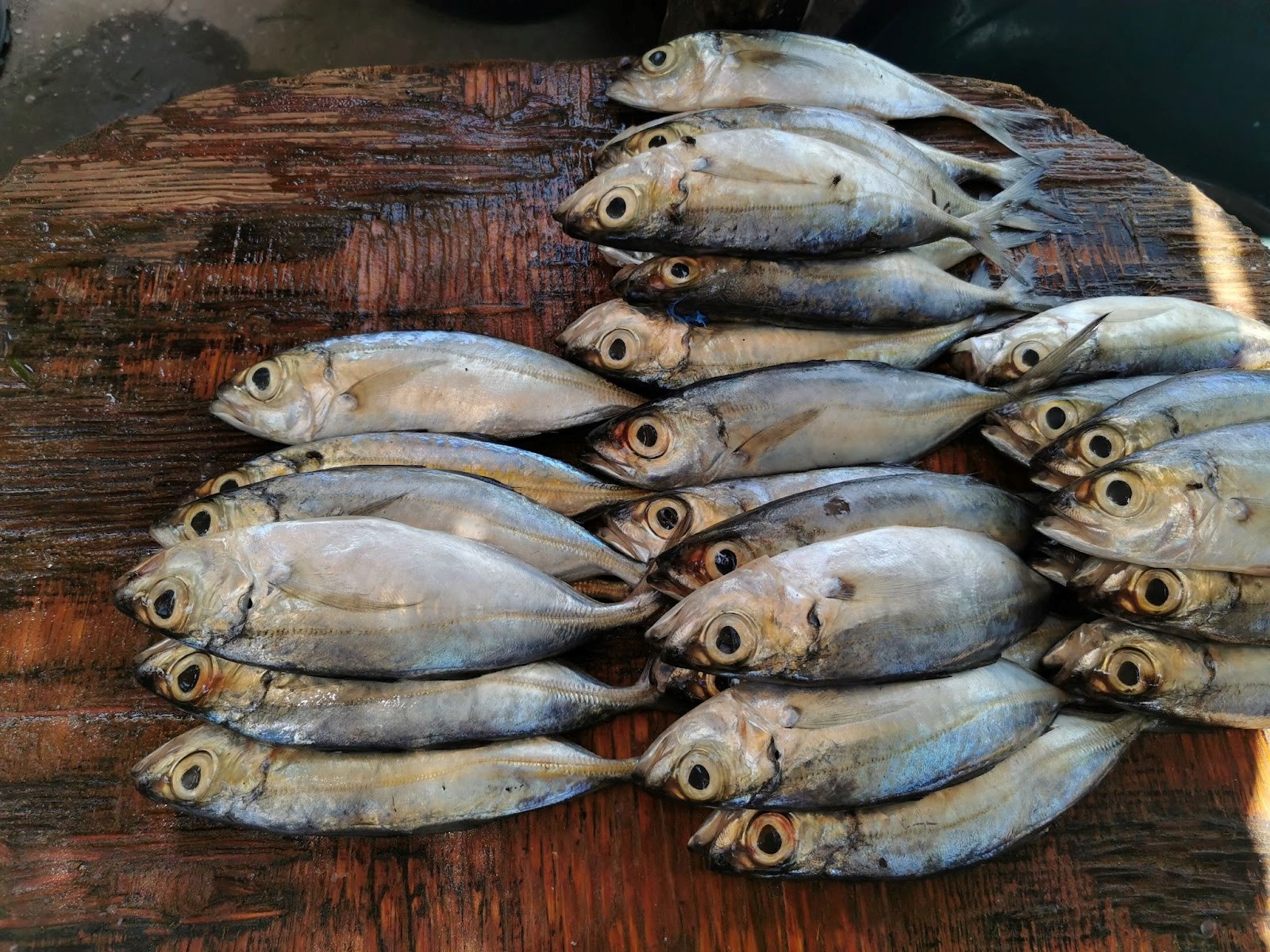 One of the targeted species, carapau (Decapterus spp), caught in the tidal channels close to the seagrass meadows. Photo: Charlotte Berkström
Managing small-scale fisheries is in many cases challenging due to complex social-ecological interactions and small-scale fisheries target a variety of species using a range of gears. These fisheries are also generally data poor, which makes it difficult to make informed decisions about proper management measures. Measures often include gear restrictions and seasonal and/or temporal closures. To study small-scale fisheries management within the Bazaruto Archipelago national park, we joined a group of scientists and students from five universities in Sweden, Mozambique and Brazil to take a closer look at the seagrass habitats and collect spatial, ecological and socio-ecological data.
How did you become familiar with the environment and the techniques needed for data collection?
The project started with a weeklong workshop in Bazaruto Island to get familiar with the diverse marine habitats, and together discuss and practise the different methods to be used in the upcoming fieldwork. The team practised snorkel techniques, fish- and seagrass identification, and survey methods as part of capacity building of marine science in Mozambique.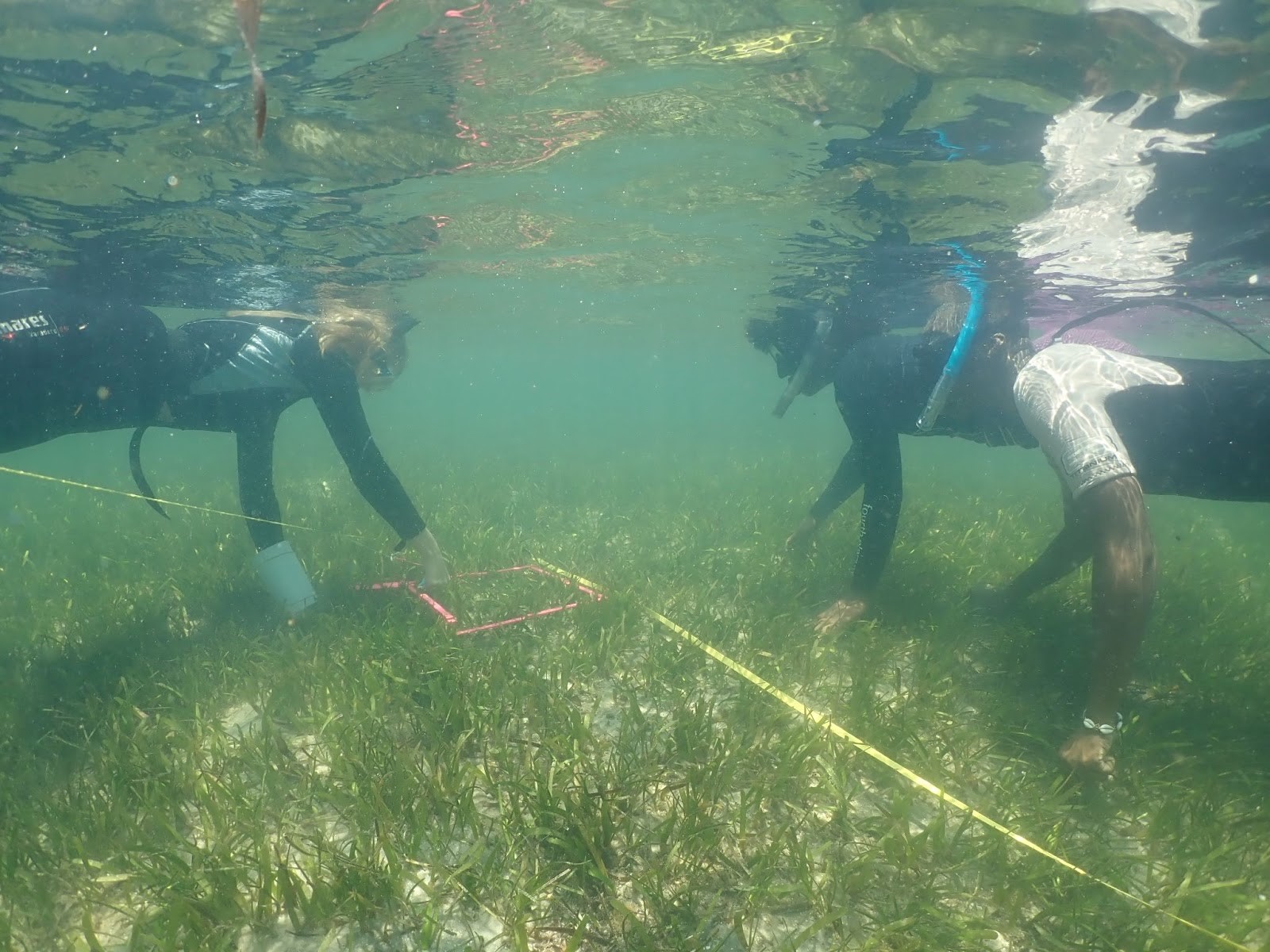 Students from Sweden and Mozambique practising data collection of fish and seagrass. Photo: Carolina Åkerlund
What did you do during your stay?
Nevertheless, all good things must come to an end, and so do educational and rewarding workshops. After an intense week of learning, we stayed on another eight weeks to conduct fieldwork. During these weeks, we spent time both under and above the sea surface and a variety of ecological and socio-ecological methods were used to get an overview of the seagrass  and small-scale fisheries in the park.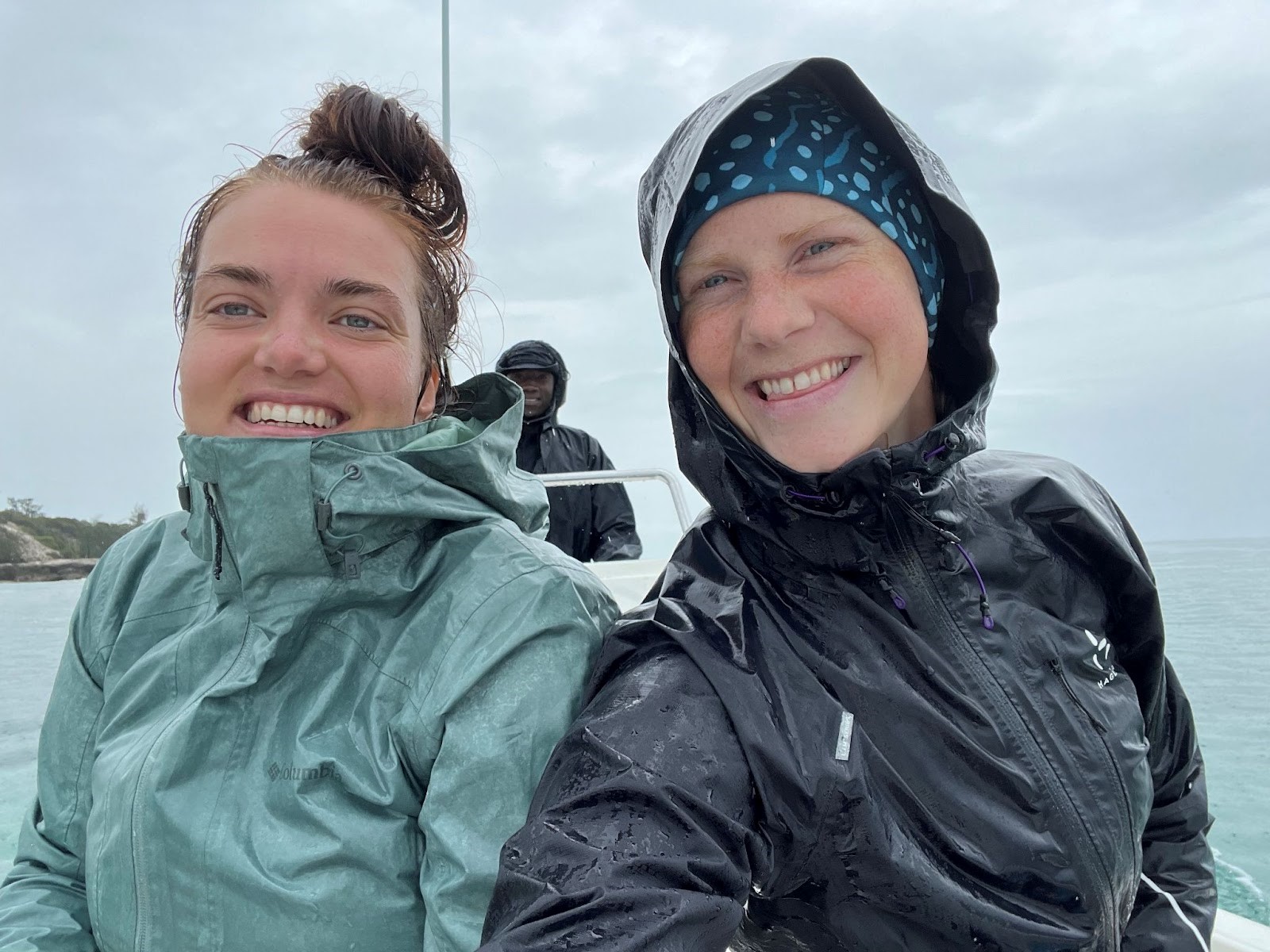 Not all days doing fieldwork are sunshine and calm seas. Photo: Amanda Rydhem
Fish communities were surveyed using two different methods: 1) underwater visual census (UVCs), where all fish within a certain predefined area were identified and counted during low tide and 2) deployment of GoPro cameras to identify and count fish during high tide.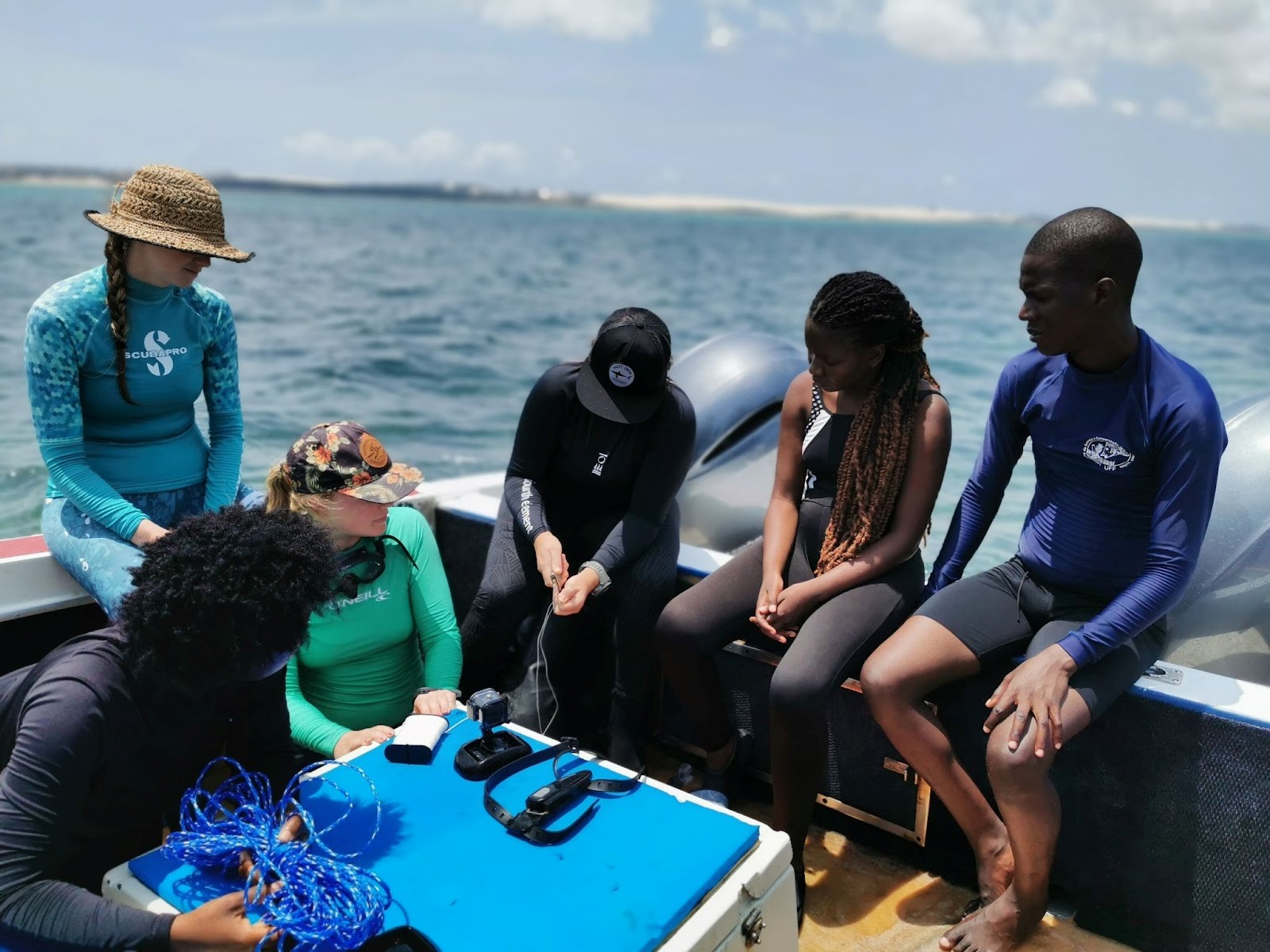 Preparing GoPro cameras before deployment. Photo: Charlotte Berkström
Together with representatives from the Bazaruto Archipelago national park and Mozambican university students, we conducted interviews with fishers in three villages in the northern most parts of Bazaruto Island. The aim with the interviews was to gain knowledge on important seagrass areas for fisheries, fishing effort, targeted species, preferred fishing grounds, and local ecological knowledge concerning habitat use and connectivity for some of the targeted species.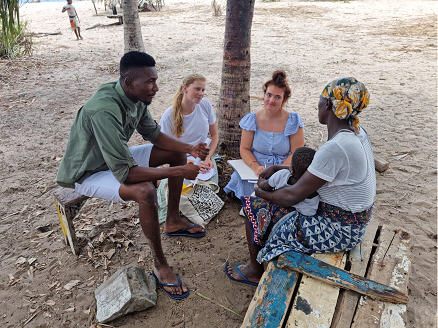 A fisherwoman with vast fishing experience being interviewed in Sitone village, Bazaruto Island. Photo: Santos Mutondo
Our thesis work is part of a larger project in collaboration with researchers, students and park representatives from the Swedish University of Agricultural Sciences, Stockholm University, Federal University of Santa Maria,Universidade Eduardo Mondlane, Universidade Pedagogica and the Bazaruto Archipelago National Park. Information gathered within the frames of this project will contribute to an increased understanding of fish communities of tropical nearshore ecosystems; how these are affected by environmental factors and by fishing pressure related to the UN Sustainable goals (SDGs) 13 (Climate action) and 14 (Life below water). Knowledge of how these factors are interacting in shaping the seagrass fish communities and how certain species may respond differently will be helpful within management efforts aiming to develop sustainable small-scale fisheries, providing food security (SDG 2), boosting social and ecological resilience and reducing poverty (SDG 1).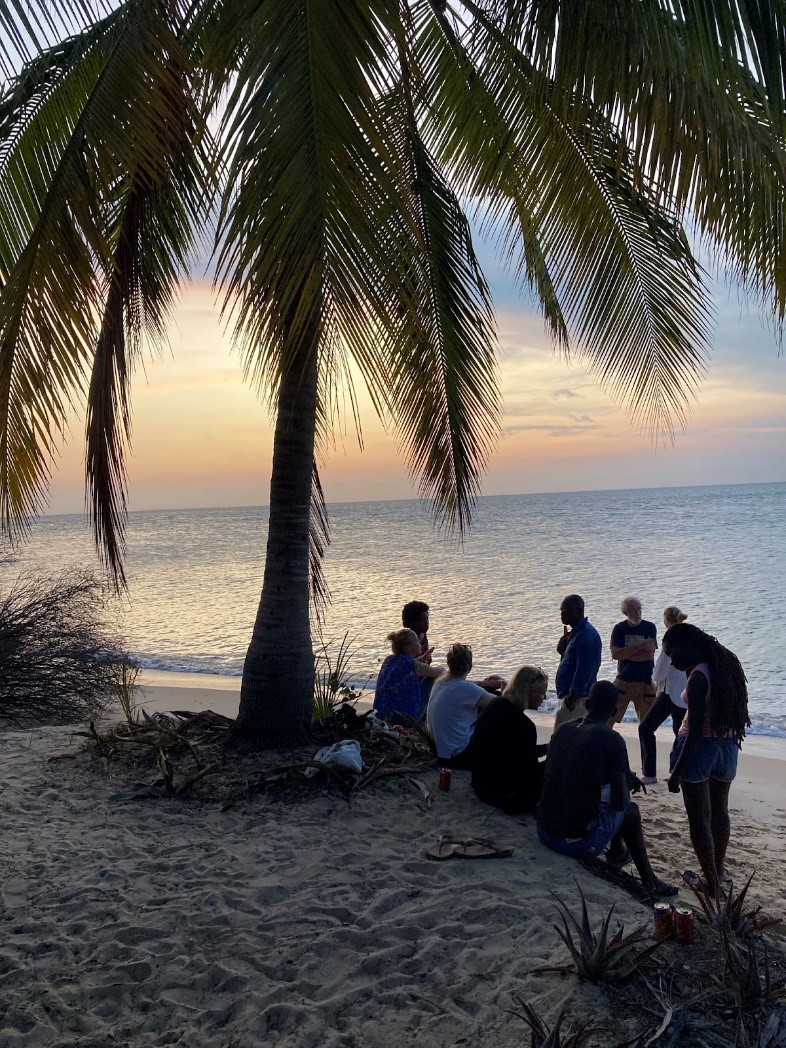 A sundowner together on the beach is the perfect way to end a day of fieldwork. Photo: Carolina Åkerlund
For more info see: Joint efforts in studying Mozambique's important seagrass beds by Swedish and local students | Externwebben (slu.se)
The Mozambique project is part of  SLU Aqua's international development cooperation