Shirley Tarawali, assistant director general of the International Livestock Research Institute (ILRI) and chair of the Global Agenda for Sustainable Livestock, made a keynote presentation at an Agri4D online conference, Food Systems for New Realities, held 28–30 Sep 2021. The conference was organized by SLU Global and the Swedish International Agriculture Network Initiative (SIANI), with support from the Swedish International Development Cooperation Agency (Sida). This blog post was first published by ILRI 4 Oct 2021. 
Tarawali's remarks, 'More connections: Sustainable livestock opportunities and new food system realities', pulled examples from the livestock sector to illustrate the importance of existing, new and diverse connections to deliver on the future sustainable, inclusive, resilient and inclusive food systems we all aspire to.
A transcript of her remarks follows.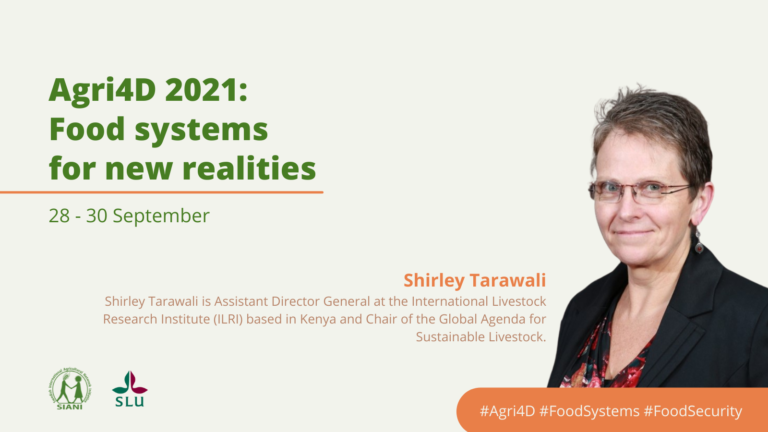 As I considered the theme of this conference, Food systems for new realities, and the core question it addresses, as I brainstormed with colleagues—and I particularly want to acknowledge ILRI's Susan MacMillan and David Aronson in this regard—I found myself circling back again and again to the new connections that have arisen recently, and more connections that are needed to address—and to influence—the new realities.
Of course, food connects us all! We all need to eat. We all have preferences. We all like to make choices—especially about food!
But when it comes to food—especially milk, meat and eggs—let's be careful that the wealthier ones of us don't allow our choices or the voices about our choices to impact on those who have little or no choice and for whom these foods would make an immense difference to their wellbeing.
There are some connections that relate to this overall theme and which are part of those new realities—new connections that influence and deliver.
Food system connections
With 'more food' needed to feed 'more people', we need to better connect how food is produced, transported, processed, marketed and consumed
We need to understand the connections among the many ways that foods are produced and their impacts on the environment
We need to understand and address the multiple trade-offs as well as connections involved in making our food systems truly sustainable
For small- and medium-sized livestock enterprises in low- and middle-income countries, where the people–livestock connections are still very close and where demand for milk, meat and eggs is growing fastest, the oft-cited connections now are between livestock and the environment and livestock and human health.
But let's not forget other connections:
Livestock provide livelihoods, jobs and incomes for more than a billion people
Women, who in lower-income countries make up two-thirds of all mixed crop-and-livestock farmers, have a unique intersection with livestock
Household stock are often the only asset that women can own
Farm animals may be the only means for a girl to go to school
Cattle, buffaloes, camels, sheep, goats, pigs and poultry and their many products provide women with nutritious food, or, if they sell those foods, with the income needed to buy other foods, to feed their families
And germane to today's topics is livestock's role in 'agroecology' and the 'circular bioeconomy' ('closing the loop'). Because small and medium production enterprises often take the form of integrated crop-livestock systems, they are already operating as a circular bioeconomy, albeit one that needs improved efficiency and productivity. Or these enterprises take the form of pastoral herding systems, which play essential roles in, and present new opportunities for, environmental stewardship of the world's vast rangelands.
Globally, we have the UNFSS (United Nations Food Systems Summit), COP26 (United Nations Climate Change Conference), N4G (Nutrition for Growth global pledge drive) and CBD (United Nations Convention on Biological Diversity) all being held in just in the last quarter of 2021. These meetings are connecting people, conversations, ideas, commitments and investments.
Pandemic lessons about connections
The pandemic has painfully but usefully reminded us just how globally connected we all are. Perhaps Dr Tedros' pandemic mantra—'No one is safe until we are all safe'—needs to be expanded to global food systems—'No one is fed or nourished until we are all fed and nourished'
We've seen how 'connected science' delivered (spectacular) vaccine solutions
And we've seen how vaccines alone will not suffice; we need similarly focused connections within and among institutions, policymakers, government officials and socio-economists
And, of course, the pandemic has underscored the need to understand the connections between people, animals and environments within a 'One Health' paradigm
Let me now turn to three connections that still must be established, developed and strengthened—three connections that are themselves interconnected!
Three new food system connections needed
Connections to diversity
Reality for each of us depends very much on our local context, which very much differs depending on where and how we live. This is particularly true of livestock, which globally play multiple and very different roles, involve very different species, and are raised to produce a range of commodities in very different environments and under very different circumstances.
Because these different realities are often overlooked, debates about the roles of livestock, for example, can get polarized, with contrasting views about whether livestock are part of the solution, or part of the problem, in addressing the new food system realities.
I'm as guilty as anyone of having this kind of polarized (unconnected) viewpoint. Working in the developing world, I have thought that the 'livelihoods' livestock provide are more important in poor than in rich countries. I was wrong of course. People in wealthier countries employed in livestock production, processing, trading, retailing, etc. are just as dependent on livestock as the millions raising farm animals in poorer countries. That to me just emphasizes the need for very different pathways to reach a united goal to improve our food systems.
Or think, for example, of the pathways needed in the developing world for a smallholder mixed farmer, or a medium‑sized dairy cooperative member, or a pastoral herder, or a female head of household, or a traditional village elder or a young urban entrepreneur, and think of the many traders and processors of livestock foods and the many people providing feed and veterinary and other inputs and services to livestock farmers. Think of the variety of animal husbandry practices: from massive dairies in China to medium‑sized enterprises raising a few hundred pigs in the emerging economies of Asia, to family farms raising one or two cows and a handful of goats and chickens in Africa. What this huge diversity tells me is that a sustainable development trajectory—and the actions and science needed to drive it—will differ greatly depending on where one starts from, and with what resources.
Connections to science
While global food trends right now are heading in the wrong direction—with increasing numbers of people descending into poverty and hunger—our globalized world has, paradoxically, more new knowledge, more science and innovation, more enabling technologies than ever before.
As the pandemic has shown us, 'connected science' can deliver miracles such as rapidly developed vaccines against a new pathogen. But to make a bigger, and more equitable, difference in a diverse world, that science must be connected to, and contextualized within, a broad and diverse set of institutional, policy and social environments.
Connections to investments
We heard last week at the UNFSS of several large financial commitments to realizing the better food systems we aspire to. We must make those financial connections also work for these 'new realities', even when those realities are challenging, conflicting, confusing or paradoxical. By connecting people from different worlds, donors from different countries, ideas from different disciplines, innovations from different communities with a wealth of new science and knowledge, we can make the difference that makes the difference.
Let's connect!
Let's deliver!
Watch a video of Tarawali's short (7-minute) talk here: https://youtu.be/QOJlSeY0kxE