Each year, more than 200 million people suffer from malaria around the world and every two minutes, a child dies from the disease. Globally, an estimated 3.4 billion people in 92 countries are at risk of being infected with malaria and developing disease. In conjunction to World Malaria Day, marked each year on 25 April, SLU Global highlights the importance of research by asking Professor Rickard Ignell about his ongoing and novel research to fight malaria.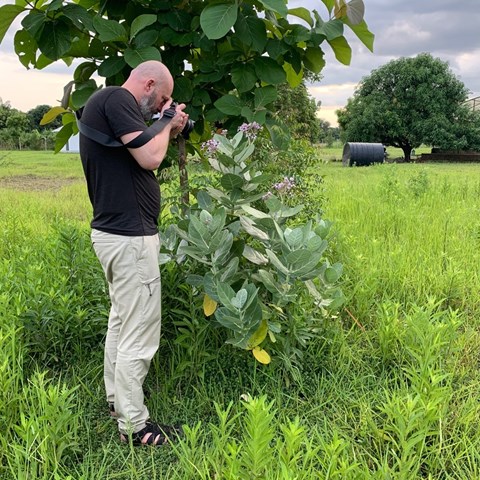 Please tell us about yourself, Rickard.
I am professor in chemical ecology, and have been working on disease vectors, predominantly on mosquitoes that transmit malaria, dengue and other arboviruses, since 2005. My group has a keen interest in understanding the ecology and evolution of olfactory (editor's note: the sense of smell) communication in disease vectors, and we use a cross-disciplinary approach to assess how behaviours of these insects are shaped by various factors. Our fundamental research has been a spring board for us to identify novel tools that can be used to complement current integrated vector management methods. In relation to e.g., malaria control, we have expanded our work in sub-Saharan Africa over that last few years in order to increase the impact of our results.
You have recently received a large grant from The Swedish Research Council for research about utilisation of flowering plants for the fight against malaria. That sounds very interesting! What is it about?
Malaria mosquitoes, along with most other species of mosquitoes, require sugar and other nutrients for survival and reproduction, and obtain these through e.g., floral nectar. Mosquitoes prefer to feed on different flowers, and locate these using their sense of smell. Ongoing research has shown that we can harness the properties of attractive plants for the development of odour-bait technology to be used against both males and females of a wide range of mosquito species. We have also shown that toxic metabolites in floral nectar can have damaging effects on the development and survival of malaria parasites. Using a forensic approach, we will now expand our understanding of which plants are fed upon by malaria mosquitoes in the wild to assess if mosquitoes carrying malaria parasites change their floral preference in a way to self-medicate.
Why is this research important and what do you hope to achieve?
Malaria prevention and control strategies have resulted in a remarkable reduction of malaria mortality and morbidity throughout most of sub-Saharan Africa over the past two decades. However, over the last five years this impact has stalled, and we are now witnessing an increase in malaria in part of sub-Saharan Africa. Factors contributing to this include both physiological and behavioural resistance among the malaria mosquitoes, which has led to a need to control mosquitoes outside for which there currently are limited tools available. We have in a recent study shown that we can drastically reduce malaria incidence through mass trapping of mosquitoes by using an attractant that targets a broader spectrum of female mosquitoes. The floral attractant, which we now have available, increases this spectrum to include males, and we thereby have a better way of controlling the entire population of mosquitoes at a local scale. While the work we will do on toxic metabolites is still at an early stage, we hope that this research in the long run could provide leads for the development of drugs for the treatment of malaria.
How does this research differ from other research on combating malaria?
Until now the only viable option for controlling malaria has been to target the mosquito vector, partly due to the rapid development of resistance of the malaria parasites. The novelty of our research is that we embrace the natural ecology of the malaria mosquitoes in our efforts to identify novel tools for their control.
Anything you would like to add?
We are grateful for the support from various funding sources, including e.g. the Swedish Research Council (VR), which continues to support us over the years. This long-term funding has allowed us to generate a much-needed understanding of the ecology of malaria mosquitoes, which we now can use and share with our collaborators. There is, however, a need to increase our efforts, which we hope to achieve through increased collaboration both within SLU and other partners, but within academia and industry.
Thank you Rickard and good luck with your research!
Written by Malin Planting, communication officer, SLU Global.