By: Edson Sanga, Happiness Mlula, Lazaro Mngumi, Maglan Sang'enoi and Said Nuhu.
PhD candidates at SLU enrolled in the Capacity Building Research Training Partnership with Ardhi University in Tanzania.
On 8-14 February, the tenth session of the World Urban Forum (WUF 10) was held in Abu Dhabi, United Arab Emirates (UAE). This year SLU arranged two side events presenting research results in the field of sustainable urban development, and participated with an exhibition stand at the Urban Expo. A group of five SLU PhD candidates, enrolled within the Capacity Building Research Training Partnership with Ardhi University in Tanzania, participated in the forum together with their supervisor Zeinab Tag-Eldeen, researcher at the Department of Urban and Rural Development.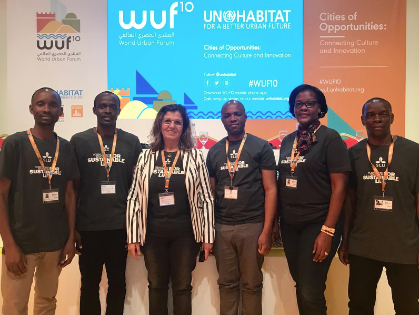 The overriding theme of the WUF10 was Cities of Opportunities: Connecting Culture and Innovations. As part of the global pathways for realising the Sustainable Development Goals (SDGs), UN-Habitat convene this forum for sharing information, best practices, discussing emerging issues and possible options. SLU participated in the forum, by sharing research grounded innovative ideas relating to rural and urban development. SLU participated under the sub-theme Sparking Research into Global Transformation which has a niche on theorising and practicing planning and decision analysis in different national and international contexts.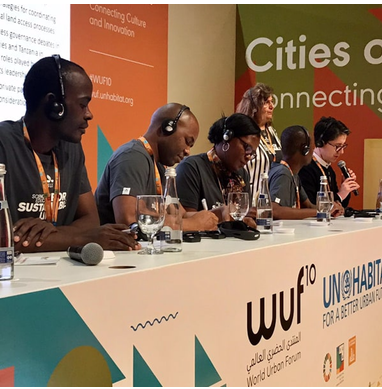 Side events
The SLU team convened two side events where we presented our research results; Side event 38: Urban-rural nexus: challenges and innovations to govern land, municipal and ecosystem services, on the fringes of resources constrained cities and small town and Side event 36: Beyond informality: informal settlements as contemporaneous urban heritage. The aim was to discuss new and innovative solutions of the dynamic shifts of activities that contribute to the well-being of rural as well as urban survival, particularly in the transforming areas of rural Africa. Topics that came up during the discussions were for example food security matters in relation to rural and urban interactions; informality, land governance and climate change in developing countries context.; and how to take research results and recommendations into practice.
The Urban Expo
The Urban Expo promoted innovative and sustainable solutions to the challenges facing cities and communities, including perspectives from national governments, the private sector, international organisations and academia. SLU's exhibition stand highlighted how to strengthen social cohesion, exchange cross-disciplinary perspectives and link arts to sustainable development. Our booth received many visitors from both the academia and practice (both national and international organisations) with varying interests related to SLU's global agenda. Academic matters offered by SLU, in particularly degree programmes, respective teaching language(s), preliminary conditions for enrolment as well as how to get scholarships, were some of the general issues that visitors wanted to know about. More specifically visitors asked about the role of SLU in conducting agriculture in hot climates like desert areas; food security related matters and SLU's research agenda towards this topic; SLU research collaboration with UAE countries; and opportunities for collaboration with universities from some institutions in low-income countries.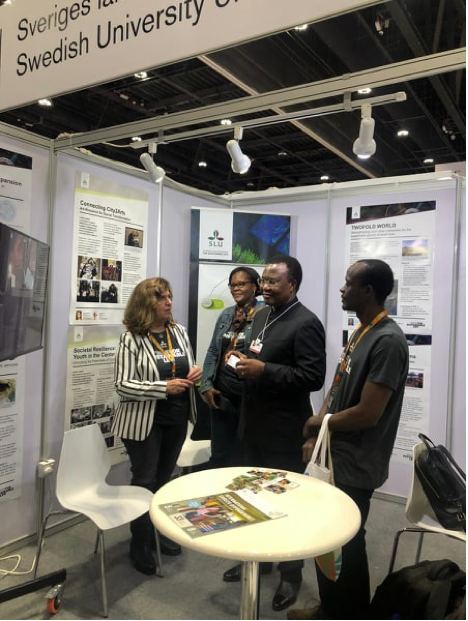 Hon. William Lukuvi, the Minister of Land, Housing and Human Settlements Development of the United Republic of Tanzania, visited our stand, and got information about our five PhD projects conducted in Tanzania with the collaboration of between SLU and Ardhi University. The minister in his remarks emphasised that it is important to put the research into practices, and in this case this can be achieved through cooperation with the Local Government Authorities (LGAs) in Tanzania.
Outcomes and take-home messages
By taking part in this conference we have established networks with people from various agencies, universities and organisations from across the globe. As the forum congregated people from all over the world with different exposure and ways of doing things, we have got experience from preparation of world class exhibition materials, art of presentation as well as confidence.
We think that participation in such international forum is imperative for the university's internationalisation as it exposes the work done at the university and thereby attract new collaboration pathways. Networking and advertising SLU in matter related to land governance, climate change and rural-urban linkage can be done in this kind of forum.
Background information
The World Urban Forum is organised and convened by UN-Habitat and addresses one of the most pressing issues facing the world today: rapid urbanisation and its impact on communities, cities, economies, climate change and policies. SLU's participation was supported by SLU Global and led by Zeinab Tag-Eldeen, Researcher at the Department of Urban and Rural Development, and coordinator of the Research Platform Sparking Research into Global Transformation.
Capacity Building Research Training Partnership with Ardhi University in Tanzania
Within this programme, funded by Sida 2015-2020, several research projects are carried out in collaboration between the Urban and Rural Development Department at SLU, and Ardhi University.