Written by Kristina Osbjer and Ulf Magnusson at the Department of Clinical Sciences, SLU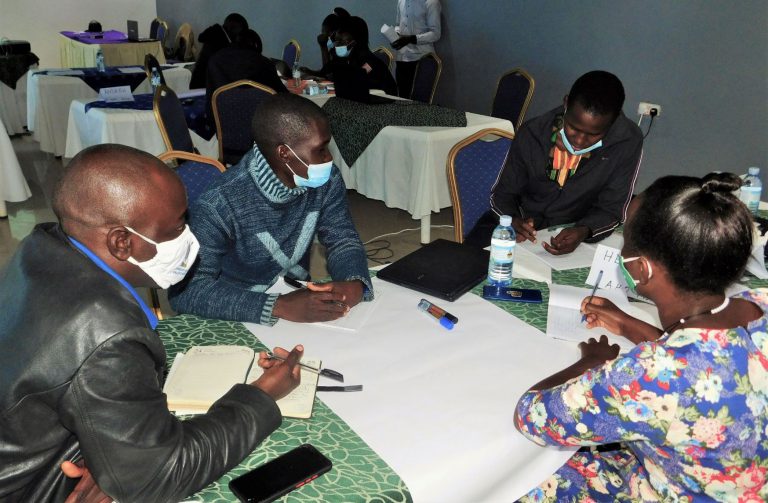 The coronavirus pandemic is changing how we work and is providing us with an opportunity to rethink the way we conduct education, sustain research and maintain collaborations. A recent field-training experience in Uganda, combining video recordings, zoom lectures and discussions with local facilitation, has paved the way forward for us within the CGIAR Research Program on Livestock to conduct interactive training in responsible antibiotic use in Ugandan livestock farming communities amidst travel restrictions.
Antimicrobial resistance – the silent pandemic
While the world is preoccupied with fighting COVID-19, antimicrobial resistance is continuing to spread, with serious consequences for health and economies (World Bank, 2017). Antimicrobial resistance (AMR), the ability of microbes to persist and grow in the presence of drugs designed to inhibit or kill them, is accelerated by the excessive and inappropriate use of antimicrobials in humans, animals and crops (FAO, 2020). Low and middle-income countries (LMICs) are predicted to account for most of the increase in antimicrobial use and to carry the largest burden of AMR, but the action and research agenda on AMR has so far been largely driven by the OECD countries (O'Neill J, 2016).
More attention to the conditions of antimicrobial use and resistance in LMICs will be required and was also the focus in a recent webinar arranged by the Livestock Antimicrobial Partnership (LAMP), hosted by SLU Global, where the divergent challenges in curbing AMR in high-income countries as compared to LMICs were discussed (LAMP webinar, 2020).
Sweden as a model to curb Antimicrobial Resistance
Sweden has a long-term experience in producing healthy and productive animals with low antibiotic use. Our unique expertise and lessons learned are internationally recognised and disseminated through online courses (Future learn, 2020) and guidelines (FAO/SLU, 2019 and FAO/SLU, 2020).
A bottom-up approach to influence antimicrobial stewardship in livestock within the CGIAR Research Program on Livestock
SLU is leading the Animal Health Flagship within the CGIAR Research Program on Livestock (CGIAR, 2020). The programme focuses on supporting the development of small-scale livestock farming with the goal 'more meat, milk and eggs by and for the poor' primarily targeting Uganda, Ethiopia, Vietnam and Tanzania. SLU contributes to the programme with expertise in herd health and matters related to antibiotic resistance. Such expertise was used also in the training on productive livestock with low use of antibiotics in Uganda. The first round of training was carried out 25-27 November 2020 in Masaka district in collaboration between SLU and colleagues from Ministry of Agriculture, Animal Industries and Fisheries, Makerere University, and local authorities in Masaka. The SLU moderators participated online, whereas the Ugandan facilitators and training participants gathered in Uganda, following the COVID-19 safety measures imposed by the Uganda Government. A mix of veterinarians from the government and the private sector as well as para-veterinarians and some farmers participated in the training that aimed for a two-way learning process to identify feasible measures to reduce the need for antibiotics and use it only when needed in a medically rational way. The local context was emphasised by taking stock of knowledge and current practices in maintaining healthy animals, the role of animal health professionals and farmers in securing animal health and the prevailing application of good animal husbandry, biosecurity and antimicrobial use. This was followed by pre-recorded and online presentations and discussion on the Swedish model and how alternative practices may be adopted in Uganda.
Sharing ideas helped us learn from each other
The training participants praised the participatory training approach and the opportunity to learn from each other, realising that among themselves they already had much of the knowledge required to become antibiotic-smart. The combined online and onsite training format was successful, yet, required a venue with stable internet connection. Participating farmers and veterinarians concluded that they were equally responsible to limit the prevailing irresponsible use of antibiotics and proposed more sensitisation campaigns, using highly influential people and practical real-life examples to raise the general awareness of AMR. They also asked for follow-up trainings to enable sustainable change of practices. As facilitators, we gained new insights on how antimicrobials are used and accessed in Uganda and tips on how to improve future hybrid and follow-up trainings. We hope that our experience can inspire others to design and implement pandemic-adapted training.