Students:
Sara Da Silva Lernstål & Konstantin Kiratsopoulos, Civilekonomprogrammet på Jönköping International Business School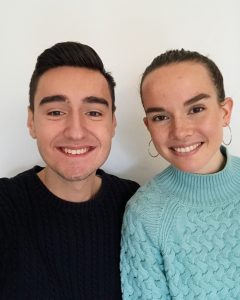 Title of the thesis:
Prevent the worlds doom, consume a healthy legume!
Number of credits: 30 hp
Supervisor: Adele Berndt
What is you thesis work about?
The purpose of our thesis is to explore the attitudes, and underlying key components, affecting health-conscious consumers purchase intentions regarding legume-based proteins. Based on previous research, we have developed a modified theory of planned behaviour, which will be tested by conducting a qualitative research in form of in-depth interviews with health-conscious consumers. We want to explore which components that build up their attitudes towards legume-based proteins, and if there are other factors, except the attitude, that affect health-conscious consumers actual purchase intentions regarding products based on Swedish legumes. Why we have chosen to focus on health-conscious consumers? We thought it would be of interest to see what health-conscious consumers, which is defined by consumers caring about e.g. their diet, thinks about legumes-based products, and their view of legumes as a protein-substitute. Additionally, we believe health-conscious consumers could be a large group of potential customers for the future products.
Why is this work important?
As a part of this four-year project, with the aim of developing climate-smart and protein-rich viands from domestically produced legumes, understanding consumer behaviour is a vital part of reaching success. Understanding consumer behaviour is important in order to be able to develop and produce attractive products in the end of this four-year phase. The framework, which we aim at developing by our work, describing how health-conscious consumers attitudes towards legumes are formed, and if there is other factors, except the attitude, that affect their purchase intention regarding legumes, can be a foundation for a larger quantitate study, taking different consumer groups into consideration. This thesis will be a starting-point in investigating consumer behaviour, contributing with important knowledge for the projects future research and work, including how to market, sell and attract people to buy domestically produced products based on legumes, which is a key wanting to succeed with the project.
Why do you think legumes are interesting? 
Since our globe, with its growing population, is facing a massive challenge due to the unprecedented pressure on the environment and agricultural resources, something has to be done. Today, the food systems are responsible for a large percentage of the world's greenhouse gas emissions, and in order to be able to meet the growing populations demand for food, at the same time as achieving more sustainable food systems, beneficial for both people and the planet, changes has to be done. One way to decrease the environmental footprints caused by food systems, and increase public health, would be a transition towards a more plant-based diet. Looking at legumes, they are of big interest for us since they aside from being a more environmentally friendly viand than meat, posses several important micronutrients and have high protein content. Legumes are an exceptional meat substitute and an increasing consumption of legumes would be beneficial for our system.