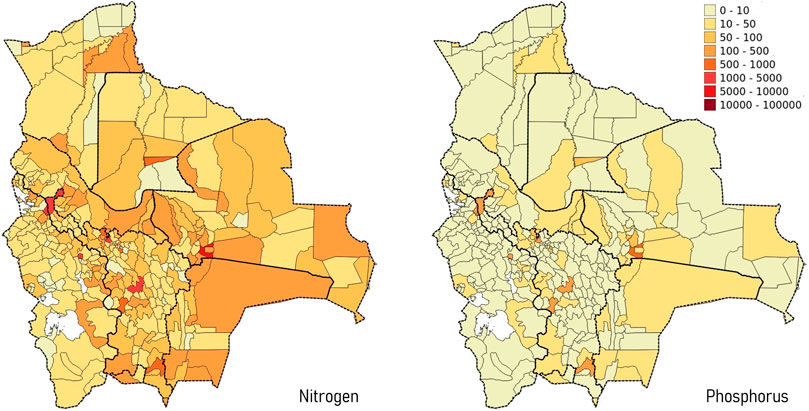 Availability of nutrients from human excreta in Bolivia in 2018.
In our latest article in #Frontiers in Environmental Sciences, Luis Fernando Perez Mercado, Cesar Ariel Perez Mercado, Bjorn Vinneras and Prithvi Simha analyse the current state of nutrient stocks, flows, and balances of the agri-food system in #bolivia. Their findings show that there is sufficient stock of #nitrogen and #phosphorus in human excreta to meet the deficit of nutrients in the food system, as well as regional nutrient surpluses that are not recirculated today. Today, Bolivia recirculates 44% of nitrogen and 74% of phosphorus used in agriculture. But we believe that circularity is going to decrease considerably over the coming years, as the national strategy to address nutrient deficits has been to increase the domestic production of synthetic fertilisers (See shorturl.at/abNQV).
Calculating mass balances always seems simple on paper. But it is difficult in practice, especially when you perform it at national, regional, and municipal levels, as we have done in this article. They usually don't add up. Here, they also suggest how deforestation and depletion of forest nutrient stocks could be a reason why our national-level balance does not add up.
The full artile is available here: https://lnkd.in/d5dt42Qf