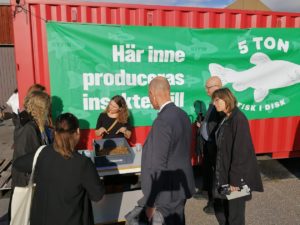 Cecilia Lalander from Kretsloppsteknik welcomed visitors from the Kjell and Märta Beijers Stiftelse at SLU campus in Ultuna. In the spotlight was the latest project "5 ton fish on the counter" (see blogpost from 04. March https://blogg.slu.se/kretsloppsteknik/2021/03/04/red-containers-at-campus/), where feed for trout was produced from insect meal at Campus Ultuna.
The visit was a great opportunity to show the group´s strong competences and relevance in regards of circular economy (wastemanagement and feed production). After a quick visit, the group hurried on to visit other research groups and get an insight to the wide and important research conducted at SLU.
The Kjell and Märta Beijer Foundation was founded in 1974 through a donation from Kjell and Märta Beijer. In addition to scientific research and education, the foundation supports culture, above all in connection with Swedish design and home furnishing tradition. Among other things, the foundation is behind the Beijer Institute, one of the world's leading research centers in ecological economics. It had been a great day and Cecilia received a lot of interesting questions and also witnessed some of the visitors testing our dried larvae first hand!