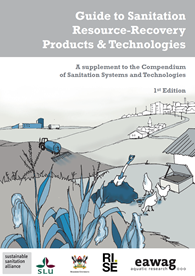 We are very pleased to share with you the 1st edition of the Guide to Sanitation Resource Recovery Products & Technologies. The Guide is a popular science publication that gives an overview of the possible resources that can be recovered and provides guidance on treatment processes to achieve safe products for reuse. The specific objectives of this document are:
To expose the user to a broad range of recovered sanitation products and innovative treatment technologies.
To help the user to design functional solutions for resource recovery by illustrating the linkages between sanitation inputs, treatment technology and the recoverable products.
To provide an overview of basic information regarding design aspects, operational requirements, and health, safety and social considerations related to resource recovery technologies and products.
Describe and fairly present technology-specific advantages and disadvantages.
The Guide to Sanitation Resource Recovery Products and Technologies is primarily a reference book. It is intended to be used by engineers, planners, end-users, researchers, technology developers, sanitation entrepreneurs, non-governmental organisation (NGO) staff and students who are interested in creating circular systems for resource use. It aims to support and enable decision making for increased resource recovery by providing information on key decision criteria for a range of recovered products and treatment technologies, thus highlighting the diversity of options available for resource recovery.
Links to download the guide:
https://pub.epsilon.slu.se/21284/
https://www.susana.org/en/knowledge-hub/resources-and-publications/library/details/4008
https://drive.google.com/file/d/1W6yuV9kwkwkgSq4EtoSSG2NuLCxpq-6Y/view?usp=sharing
Contact: Jennifer McConville