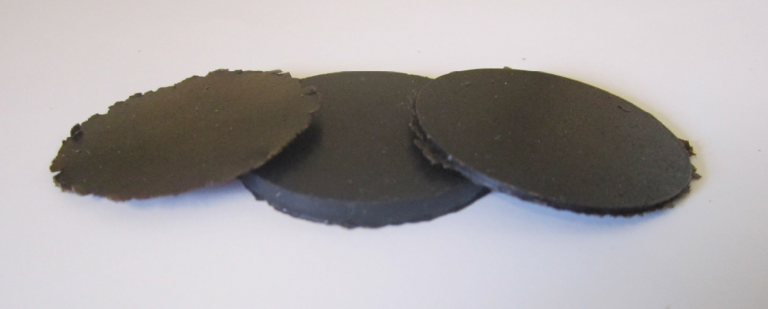 A Protein-Based Material from a New Approach Using Whole Defatted Larvae, and Its Interaction with Moisture
Nazanin Alipour, Björn Vinnerås, Fabrice Gouanvé, Eliane Espuche and Mikael S. Hedenqvist
Ett proteinbaserat material från hela avfettade larver från Amerikansk Vapenfluga presenteras. Efter att larvfetterna avlägsnats och en plasticizer tillsats kunde materialet kompressionsgjutas till plattor/fim. Fettet som var rikt på mättade fettsyror har en möjlig användning som smörjmedel. Aminosyrorna som var i majoritet var aspartansyra/asparagin och glutaminsyra/glutamine. Infraför spektorskopi visade att proteinmaterialet hade hög andel av starkt vätebundna β-sheets, detta indikerade på hög aggregering för proteinet. För att utvärdera fukt-protein interaktionen utvärderades materialets vattenupptag. Upptaget av vätska följde ett BET type III moisture sorption isotherm, vilket kunde passas in i en Guggenheim, Anderson och de Boer (GAB) eekvation. GAB, kombinerat med klusterstorleksanalyser visade att vattnet bildade kluster i materialet redan vid låga fukthalter.och att klustrens storlek ökade med ökad luftfuktighet.
Full text PDF Version: http://www.mdpi.com/2073-4360/11/2/287/pdf
Special Issue Thermodynamics of Polymer/Solvent Systems: http://www.mdpi.com/journal/polymers/special_issues/thermodynamics_polymer_solvent_systems
Kontakt: Björn Vinnerås