Projektgruppen består av FD Nina Lind (psykologi), som har erfarenhet av experimentella och enkätstudier i psykologi och särskilt hälsopsykologi, t.ex. studera effekterna av sjukdom på psykisk hälsa; Docent Helena Hansson (företagsekonomi), som har arbetat med företagsekonomi med särskild tonvikt på djurvälfärd och beslutsfattandet, i vilken hon har integrerat aspekter från psykologiska modeller för att studera jordbrukarnas beslutsfattande under risk och förklara ekonomiska beteende; professor Carl Johan Lagerkvist (företagsekonomi), som har lång erfarenhet av att använda olika beteendemodeller för att förstå jordbrukarnas beslut och val, professor Ulf Emanuelson (veterinärmedicinsk epidemiologi), som har expertkunskaper om produktionssjukdomar hos mjölkkor och försämrad produktivitet i andra djurarter, och professor Catarina Svensson  (veterinärmedicinsk epidemiologi) som har lång erfarenhet av forskning om effekterna och förebyggande av sjukdomar i mjölkkobesättningar och långtgående samarbete med lantbrukare och praktiserande veterinärer.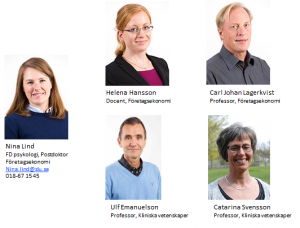 ______________________________________________________________________________
About us
The project group consists of: Dr. Nina Lind (Psychology), who has broad experience of experimental and questionnaire studies in psychology and especially health psychology, e.g. studying the effects of illness on psychological health. Associate Professor Helena Hansson (Business studies), who is an expert in business studies and farmers decision making, has in her research put special emphasis on AW and decision making, into which she has integrated aspects from psychological models to study farmers' decision making under risk and to explain economic behavior. Professor Carl Johan Lagerkvist (Business studies), who has expertise knowledge and long experience of using behavioural approaches to understand farmers' decisions and choices and of integrating psychology and business studies by relating behavior to personality and  managerial action. Professor Ulf Emanuelson (Veterinary epidemiology), who is transnational renown and expertise in veterinary epidemiology, he has experience in prominent research detailing the effects and prevention of diseases in dairy herds and isat the forefront of socio-psychological veterinary epidemiology, investigating farmer and veterinary attitudes, an innovative and cutting-edge area of veterinary epidemiology.  Professor Catarina Svensson (veterinary epidemiology) who is international leader in cattle medicine and herd health management, with extensive experience in research regarding the effects and prevention of diseases in dairy herds and far-reaching collaboration with farmers and practicing veterinarians.