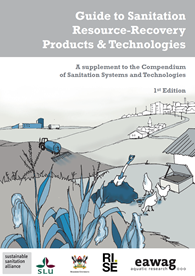 We are pleased to announce the we will soon be publishing a Guide to Sanitation Resource-Recovery Products & Technologies! To launch this publication we are hosting a webinar on the SuSanA forum.
When? 22nd of October, 2020 between 14:00-15:00 CEST. Details and registration can be found on this link: https://www.susana.org/en/news-and-events/sanitation-events/upcoming-events?details=170
This Webinar is organized by the Swedish University of Agricultural Sciences (SLU), Makerere University and the Research Institutes of Sweden (RISE) in collaboration with SuSanA working group 5 as part of the SPANS research project. It will present a new publication related to resource recovery from sanitation systems – the Guide to Sanitation Resource-Recovery Products & Technologies. The publication is designed as a supplement to the Eawag Compendium of Sanitation Systems and Technologies. It provides an overview of the possibilities for resource recovery from sanitation and provide guidance on treatment processes to achieve safe products for reuse. The webinar will introduce the guide, including an overview of the technologies and products that are covered in the document, and discuss how the information sheets can be used a reference book for sanitation planning and decision-making.
Contact: Jennifer McConville