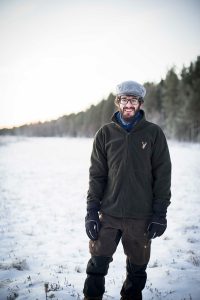 What have you done before your master's programme?
I have studied a bachelor's degree in forest engineering and natural resource management in Spain followed by a masters in forest sciences here at SLU and at the University of Eastern Finland.
What's your first memory involving an animal?
I have a glimpse of my grandfather (morfar) holding me when I was just a kid so I could reach the top of the fence of a bull farm for feeding them apples.
What made you good to go for fish and wildlife?
I wanted to study the science behind wildlife management. I felt it wasn't enough with knowing which wildlife species we have and how to manage them. Thus, when I came to SLU last autumn for my forestry MSc, and I got to know the programme, the wildlife manager/scientist inside me wake up again. The whole master's programme was quite appealing and many people recommended it, so I decided to stay here in Umeå and enrol it.
Fun hobby or fact you would like to share with us?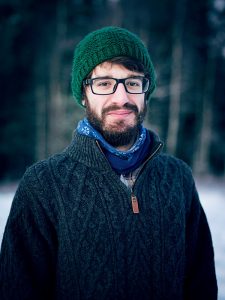 I love cooking, baking and being outdoors. So every now and then I ask myself I should become a cook instead and move a mountain station for feeding hikers (and scientists doing field work) with delicious meals 😉
Dream job to land straight after graduation?
I would like to work as a forest engineer/scientist dealing with wildlife management issues. And of course having still enough time for cooking and baking. I have realised that Sweden is the place where I feel the best with myself so far. So Jag pluggar Svenska nu! It will take some time but I hope to get my dream job here.
Fish, birds or wildlife?
Them all! But I have kind of more sympathy with the bird genus Turdus. But anyway, seeing any kind of animal in the wilderness always creates a feeling a happiness on me. I hope it doesn't vanish with the years!