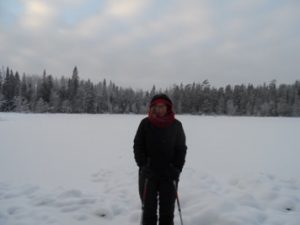 What have you done before your masters' programme?
– Bachelor Agro-and Biotechnology (major in Animal Care)
– Bachelor Secondary School Teaching
What's your first memory involving an animal?
Probably going to the zoo.
What made you good to go for fish and wildlife?
Last year I was doing an Erasmus programme at Högskola I Gävle. One day we had a guest speaker (Frederik Widemo) who gave the most amazing moose talk ever. I had been looking for a place to study something moose related, so afterwards I went up to ask if I could study this somewhere. He recommended this course, so here I am 🙂
Fun hobby or fact you would like to share with us?
Archery (no bow hunting though).
Dream job to land straight after graduation?
Anything involving moose.
Fish, birds or wildlife?
Wildlife.