Even if the Agroecology Day is already a while ago, we would like to draw a short resume.

We started the day with a short introduction of the program and the topic we have chosen. We decided on the topic of food security and how the role of Agroecology is imperative to this.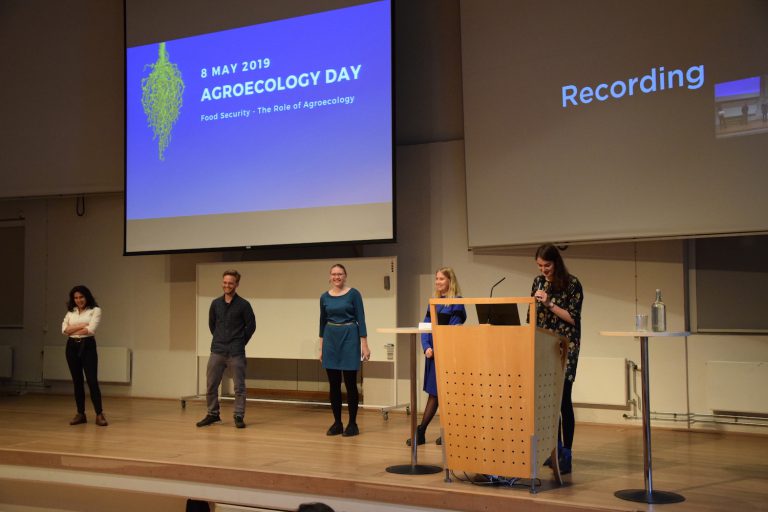 Our first speaker was Kostas Karantininis and he talked about sustainable diets and sustainable agriculture for a sustainable planet. It was very inspiring and he also mentioned the EAT-Lancet report, a report that deals with the question "Can we feed a future population of 10 billion people a healthy diet within planetary boundaries?".
After Kostas, we showed a video where we interviewed Rusho and Rebecca from Uganda. They talked about how Agroecology works in Uganda, which potentials it has and what the differences in agriculture between Uganda and Sweden are.
Our next speaker was Anna Hovhannisyan, who came from Armenia. She talked about YPARD, the Young Professionals for Agricultural Development network and her own start-up Chir´s House, where she dries fruits, like strawberries.
After this first blog, we organised the knowledge-food market, where we built up tables with vases of rapeseed and different agricultural organisations presented their projects. The participants where: Vegostan, Helen Thompson & her vegan cheese, Landet Oss, Linnéa Hellberg & kirseberg.earth project, Chir´s House and Odlingsutskottet (the gardening group from SLU).
The next speaker after the market was Andreas Malmgren, who talked about "No farmers – no food & reintroduction of old modern legumes". He highlighted the importance of working with farmers and innovations in the agricultural sector, he works for implementing legumes more in the supermarkets and advises the consumer how to use them.
The next lecture was about how to enable commercial urban agriculture. A former Agroecology student, Göran Claesson, founded his own company, VEGOSTAN, with support from Stadsbruk and has now his own urban farm outside from Malmö. He sells mainly vegetables and microgreens through REKO-Ring and to restaurants.
Cecilia Ward from Landet Oss (where we helped out some weeks ago and also made a post about it) talked about localized food systems and small-scale farming. This was really interesting because small-scale farmers have to compete with large-scale farmers on the market and have to find a market nice where they can deliver to.
After our lunch break, where we provided food from SPILL, a restaurant in Malmö which is processing food with food waste, we heard the lecture "Next level plant-based milk" from Maria Tegman. She is one of the inventors of Sproud, a drink produced out of peas. She talked about the benefits of peas and want to collaborate with more Swedish farmers in the future.
Afterwards, Erik Andersson from SPILL talked about "Upcycling food waste". When you imagine how many food is wasted each year, it is incredible. We urgently need a shift in our consumption behaviour to reduce food waste. SPILL tries to reduce the effects of this behaviour while processing meals out of food waste.
The last lecture was from Rustan Nilsson about "Food waste: treatment and prevention".
He works for SYSAV, South Scania Waste Company, which make electricity, energy and slush out of our waste. The slush can be used for fertilising the fields.
The Day ended with an interactive panel discussion where we discussed the question "How should our food system be designed to achieve sustainable food security globally?" Our moderator was Emilia Rekestad and we designed the panel in for of a fish bowl discussion.
At the 9th of May, we also had a participatory workshop "How can we better promote our Agroecology qualifications to employers?" organised by Erin Byers from the NMBU, the Norwegian University of Life Sciences.
So, all in all, it was a really successful day and everything worked really well! 🙂
We also had enough funding for all the stuff we provided and also reimbursement for those who came from far away and for the farmers who came. Our sponsors were: SLU Future Food, SLU Urban Futures, SIANI and SLU Alumni. And we got so much help from Benny and Janne, who supported us with the technical stuff. They are so cool!
If you want to see the whole Agroecology Day 2019, we recorded it and here is the link:
https://tcs.video.slu.se/tcs/?c=8306&c=8306#page:recordingList&pageNumber:1&id:DABC0B6B-39B5-45D4-AD53-17430BF87A12