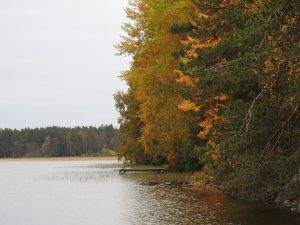 Lake Nydala. ISO 100, 24.1 mm, f/4, 1/80.
Umeå truly lives up to its nickname, – the City of Birches – in autumn when the birches fill the landscape and streets in their bright, golden colors.
Spent the day out at Lake Nydala (a stone's throw away from Campus), taking photographs in the mild autumn weather which is coming in. Temperature's holding up at around 0 – 10 °C, so while I'm starting to feel a little chilly, the mallards I've run into seem to be having no troubles at all!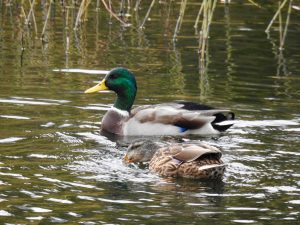 Picture of the day: Mallard, male & female. ISO 400, 178 mm, f/5.6, 1/200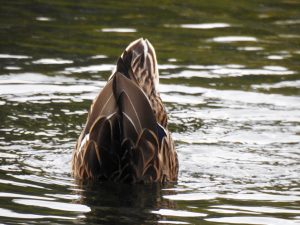 Female mallard diving down for a quick snack.  ISO 400, 321 mm, f/6.3, 1/160.
Lake Nydala measures up to just short 10 km of lit trails along its perimeter, making it ideal for any runner, but it also has a designated dog trail, a massive free-of-charge skiing trail, a maintained skiing trail for members, and a multitude of cozy fireplaces prepared to accommodate anything from a young couple to entire groups of a dozen or more students out for a picnic.